We often share the wonderful stories of young lives changed through our one-on-one mentorship programme, but today we want to offer an insight of Y's Girls from a mentor's perspective.
Lucy recently joined our team of volunteer mentors – here's her story:
One day, while browsing Facebook, I saw an advert for the Y's girls project. I had time, wanted to do something meaningful, and I've always met lovely people either working for or volunteering with charities, so I signed up. At the end of my first day's training with other volunteers, the team asked each of us to draw a picture to represent what we can offer to potential mentees. It captured something of who I am, but I think it's fair to say it wasn't a work of art!
Asma (the programme coordinator) talked through some potential matches, identifying mentees in my area who I shared common interests with. After some discussion, I was paired with Leanne, who loves arty crafty things just like me.
Our matching meeting was at the Malt Cross. I was full of nerves and anticipation, hoping that the new mentee and her family wouldn't be disappointed, but the connection was natural and easy. I discussed potential plans and activities with Leanne, her mum, and one of her brothers, and we quickly decided that making a skirt together would be a positive first step. During our first proper session, Leanne and I went into town looking for fabric – Leanne showed her creative flair by choosing pink, marble-print fabric and white feather trim. I coached her in the fundamental textile and sewing skills Leanne would need, which she learned with remarkable speed and enthusiasm. Our next session was at Leanne's house, where she made a skirt in 90 minutes! She was really proud of what she'd achieved and couldn't wait to wear it. It wasn't long before she sewed a pair of cargo pants from scratch – a major achievement for a ten-year-old, learning a valuable transferable skill!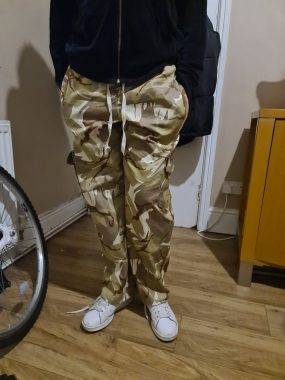 Leanne's amazing cargo pants!
Arts and crafts was only the beginning. We've undertaken activities that have pushed me out of my usual routines and comfort zone, including roller skating (three times, no broken bones) and trampolining, where I bounced around for a couple of hours like one of the kids while the other adults sat in the café! Leanne and I have met for coffee, gone to the gym, played crazy golf, and I've been introduced to bubble tea – a milky, colourful tea sensation from the Far East. We've undertaken sessions jointly with other mentors and their mentees, which has been a positive experience for all of us.
As Christmas approached, I suggested Leanne make individualised pillows for her family – an idea she seized upon, producing beautiful, hand-crafted fabrics for each family member. Her mother was so touched and impressed by Leanne's skills that she bought her a sewing machine of her own, which is being put to good use on a regular basis.
Activities and skills development are helpful ways to connect and mentor, but they only provide the framework, upon which mentors and mentees get the chance to build trust and open communication. Leanne and I have formed such a bond, and I can't begin to explain how wonderful it's been to see her rising to the challenges life throws at her. Though recently diagnosed as dyslexic and facing challenges in an educational environment that doesn't meet the grade when it comes to pupils with additional needs, Leanne's newfound confidence has helped her avoid discouragement by focussing on the things that matter to her.
I've really enjoyed every aspect of mentoring. I'm matched with a lovely family, our sessions are genuinely fun, and it's been fantastic to see Leanne's self-esteem grow. It's been easy to fit the weekly commitment around my full-time job, and such a joy to see Leanne develop confidence in her strengths and abilities.
Leanne and I have another 6 months to go; the time is flying by, so we'll squeeze as much as we can into the time we've got together. It's sad to think there'll be an end to our formal mentoring/mentee journey, but the project team help manage endings in a way that supports both of us. Becoming a Y's Girls mentor was one of the most rewarding decisions I've ever made.
We're currently recruiting for Y's Girls mentors. So, if Lucy and Leanne's story resonates with you and you find yourself wanting to be a Y's Girls mentor you can find more information and apply here: