Happy International Women's Day!
International Women's Day is the 8th March and the 2023 campaign theme is #EmbraceEquity
Today and every day, let's uplift and empower the women in our lives.
Below you can meet three women and learn about their roles here at YMCA.
Helen Lambert, Head of Supported Housing, YMCA Robin Hood Group
Aged 46, based in Nottingham
What's your role and what does a typical day involve?
I work as the Head of Supported Housing for the YMCA Robin Hood Group, providing supported accommodation to over 650 of our most vulnerable client groups within the local community, across Nottingham City, Nottinghamshire, Goole and Worksop.
I provide inspiring leadership and clear direction to the supported accommodation team to improve the lives of vulnerable homeless adults, young people and refugees, working in partnership with all areas of the organisation to develop the service delivery and secure funding to support residents. Working closely with the Operation Managers, we provide a safe and secure home for our young people to discover who they are and what they can become. We do this by delivering a clear resident journey and pathway for them to access support, gain essential life skills, access digital technology, education, and employability skills to support them to move on to independence.
What advice would you give to other women thinking of working in a similar role?
I spent my career working in the corporate sector and I wanted a change. I wanted to be able to work in an environment where I could share my skills and knowledge gained over the years to have a positive impact with supporting vulnerable people within my local community. I was very apprehensive about how I would be perceived within the charity sector, but there was no need.
I was made to feel so welcome, I received a thorough induction with several opportunities to continue to learn new skills for my own professional development. I have established strong relationships of trust with both internal and external stakeholders and I feel privileged to work with an amazing team driving the vision, mission, and values of our organisation to allow young people to have a fair chance to discover who they are and what they can become.
Making the decision to change my career to working in a charity within Supported Housing has opened lots of new opportunities and given me the platform to learn new skills. The main difference when working for a charity is that you're driven by purpose, which aligns with my own personal values. I wake up every morning excited to start the new working day, knowing the work I do will contribute to positive outcomes.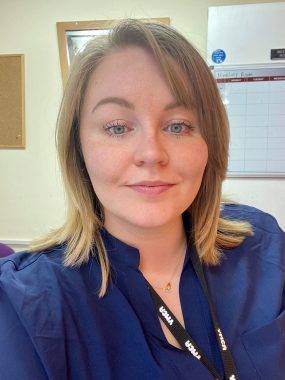 Hannah Cheslin, Housing Service Manager, YMCA Robin Hood Group
Aged 32, based in Mansfield
What's your role and what does a typical day look like?
I am a Housing Service Manager, covering the 16+ accommodation at the YMCA's Mansfield site, the Multiple Complex Needs accommodation in Mansfield, and the county maintenance team. No one day is the same, but a typical week may include multi-agency meetings, risk assessments, staff one-to-ones, audits and reviews for performance management, authorising spending and expenses, auditing completed work and being involved in the recruitment of new staff.
Although I had lots of transferable skills, I hadn't previously worked in supported housing. I wanted to work at the YMCA because somebody close to me has dealt with homelessness and I wanted to be able to support other people who may be going through the same thing. I feel passionate about making sure no one has to spend a night on the street.
What advice would you give to other women thinking of working in a similar role?
More women should consider management. It's your skills and personality that help you in management; your success is not related to your gender. A diverse team is a successful team, as each person will bring unique skills and a unique approach to their role.
For me, the theme of "embrace equity" is about ensuring that everyone in my team has what they need to be successful in their role. That might mean things like flexibility to fit work around childcare, providing ergonomic office equipment, embracing people's learning styles and employing a true person-centred approach
Emma Keenleyside, Climbing Coach at YMCA Newark Village
What does International womens day mean to you?
I believe representation is important in inspiring people to try something new. When you see someone who you can relate to doing something you want to do, it shows you that anything is possible.
Do you think there are more opportunities happening now (compared to a few years ago for example) for women around women's sports and activities like climbing?
I think as climbing is increasing in popularity there are more climbing walls appearing, which enables more people to experience climbing, fall in love with it and become qualified individuals. This increases representation and leads to more pathways for people to first learn and develop their climbing, whether this be indoors, outdoors or competitions – and the circle continues.
What help is out there for women wanting to get into your field?
Climbing is still a new industry which is constantly expanding for both climbers new to the sport and people who choose to make it their job.
No matter who you are, you can gain experience or find out information from your local climbing wall like here at the YMCA Village in Newark, or through governing bodies who provide training and qualifications.
What advice do you have for young women wanting to do well in sports or physical activities?
If you see a sport or an activity you are interested in, get involved and try it out! Along with the many benefits of the sport itself, getting involved in a social circle and a community is important for your experience of the activity. In our youth sessions at the Village, we love creating challenges and times to relax and socialise to facilitate this sense of community.
How do you think sports can be made more accessible for women?
As a sport, climbing is very social, and everyone already involved in the climbing community feels the welcoming atmosphere and 'tribe' that forms at their local gym.
For anyone wanting to join that tribe and experience climbing, introductory sessions are the perfect way to getinvolved and try it for yourself.
On a scale of 1 to 10, 1 being poor and 10 being excellent, where do you think we are on the scale for overcoming barriers that women face getting into sports and physical activity? and why?
I haven't personally faced any barriers to get to my current position, but I appreciate this isn't the same with every sport. The demographic for people visiting climbing walls works out a relatively 50/50 split for male to female, but there are certain specialisms within climbing where the balance is less even. So I would say about a 9/10, as there is still some work to be done. However the industry is still in its infancy we are definitely heading in the right direction.
What changes have you seen in your field around the progress of women participating and excelling?
In the short amount of time I've been working in this industry we've seen climbing in the Olympics for the first time and numerous new climbing walls have appeared across the country – including ours here at the YMCA -enabling people from all over the country to have increased accessibility into climbing. I recently got to see this increased participation and access first hand, after attending my first youth climbing competition full of youths putting their all into each of their climbs. It was inspiring to see how much heart they put into what they were doing and reminded me of the development climbing has had in such a short time frame, along with its increase in popularity. 80 boys and 120 girls attended the competition that day.
What has been your experience and how did you arrive at where you are today as a climbing coach? 
My journey into climbing coaching started after I decided working in teaching wasn't going to be for me and I wanted to instead work in something I was passionate about while continuing to work with and develop people over a period of time. I have been climbing since 2016 and started working in climbing during 2020.
I have been working on my coaching journey since 2021, and working with the incredible team at the YMCA has enabled me to get involved with the community and get to know so many different individuals. I am excited about where the sport is heading and – with this incredible new facility in Newark – I can't wait to see what the future holds.
Find out more about working for YMCA here